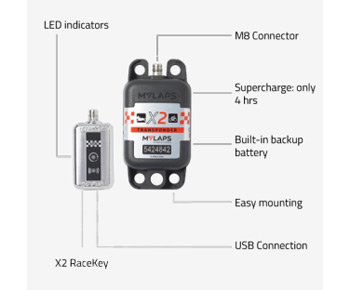 MyLaps direct wired transponder
Direct Power Transponder connects directly to your 12V battery, so there is no need to recharge your transponder. It provides the best solution if you do not switch cars and need a permanent, maintenance-free solution.
Position: maximum height 60 cm (2ft)
Power consumption: 12 v DC / <12 mA
Length of connection cable: 2 m (7ft)
Price: $495.00 USD, $649 CAD
AMB/MyLaps transponders are required for timing at SCCBC, ICSCC, SCCA, PCA & many other sanctioned racing events.
News & Events
CACC #3
June 10th and 11th at Mission Raceway Park
Driver Training 2
June 24th and 25th at Mission Raceway Park
CACC #4
July 15th at Mission Raceway Park
DUE TO EXCHANGE RATE VOLATILITY, THE PREVAILING PRICE IS DETERMINED BY THE USD PRICE MULTIPLIED BY THE CAD EXCHANGE RATE.