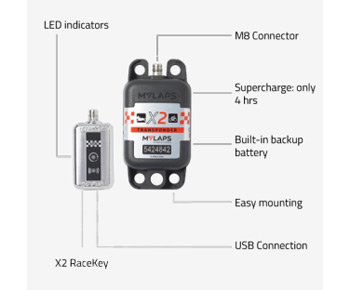 MyLaps X2 Transponder with 2 year subscription
Check your data online
Check, analyze and share your practice and race results in your personal MYLAPS account.
Flexible subscriptions
2 year subscription included (must be activated prior to use).
X2 Racer pack
The X2 Racer pack includes the X2 transponder and X2 RaceKey to manage your subscription.
Price: $399.00 CAD
AMB/MyLaps transponders are required for timing at SCCBC, ICSCC, SCCA, PCA & many other sanctioned racing events.
Store Closure Dates & Special Events
WINTER - Store Hours
November 1st - February 29th, Winter Hours in effect
Closed for Inventory
the store is closed Thursday February 20th
CACC Race 1 at Mission Raceway
the store is closed April 17-18
important notice: due to exchange rate volatility, prices are subject to change without notice