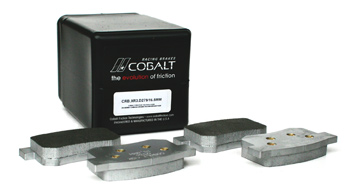 Cobalt Friction Technologies is a leading developer and manufacturer of high-performance brake friction compounds for professional motorsports and club racing applications.
The XR-Series Carbon-Ceramic friction composites represent a significant advancement in the evolution of motorsports brake pad technology. The XR-Series materials have unparalleled consistency and friction stability over the broadest operating temperature range in the industry (50°F to over 1600°F).
XR1 COMPOUND -XR1 combines a very aggressive initial bite/attack and high sustained torque levels with good modulation/threshold control and release characteristics to deliver unparalleled decelerations rates across a broad range of operating conditions. Temperature range from 100-1600°F (38-871°C)
XR2 COMPOUND - XR2 features a strong initial bite with a controlled transition to a medium-high rising torque profile. Not quite as aggressive as the XR1, yet still offers consistent, predictable braking. Temperature range from 100-1600°F (38-871°C).
XR3 COMPOUND -XR3 is a highly versatile medium-high torque compound with very good cold performance and high fade resistance. Excellent modulation and wear characteristics make the XR3 the perfect choice for the majority of medium & lower inertia applications with limited brake hardware options. Temperature range from 100-1200°F (38-649°C).
XR4 COMPOUND -XR4 is a medium torque compound sharing the same application basis as the XR3, but at ~10% overall lower torque levels. Slightly rising torque profile at low to moderate line pressures, while transitioning to a virtually flat profile at higher line pressures for unmatched frictional stability in rear axle applications. Temperature range from 50-1200°F (38-871°C).
XR5 COMPOUND -XR5 is a low-medium torque compound designed for rear-axle applications in vehicles exhibiting rapid and high levels of weight transfer under braking (e.g. front wheel drive touring cars). Solid initial bite and a flat torque profile then tapering off to eliminate rear lock up.
Upcoming Events
RALLYE PERCE-NEIGE MANIWAKI
February 5th & 6th 2016
Driver Training (tentative dates)
March 19th & 20th
CACC #1 (tentative dates)
April 15th, 16th & 17th at Mission Raceway Park
DUE TO RECENT EXCHANGE RATE VOLATILITY, UNLESS OTHERWISE INDICATED, ALL PRICES ARE IN USD FOR PRICE COMPARISON PURPOSES.