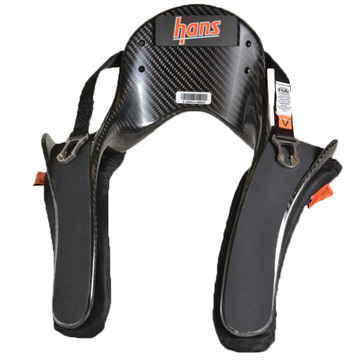 HANS® PRO ULTRA
The Pro Ultra device applies lightweight construction of the Carbon Fiber Pro series to the modern new shape of the Sport II. The Ultra saves on weight and allows for easy entry and exit from the race car, even smaller tighter vehicles. The 100% carbon fiber construction features a hollow core for increased weight reduction without sacrificing strength.
Sizes: Medium, Large
Angle: 20 degrees
Homologations: FIA, SFI 38.1 (upon request)
Price: $949.00 USD, $1349.00 CAD
News & Events
CACC #3
June 10th and 11th at Mission Raceway Park
Driver Training 2
June 24th and 25th at Mission Raceway Park
CACC #4
July 15th at Mission Raceway Park
DUE TO EXCHANGE RATE VOLATILITY, THE PREVAILING PRICE IS DETERMINED BY THE USD PRICE MULTIPLIED BY THE CAD EXCHANGE RATE.