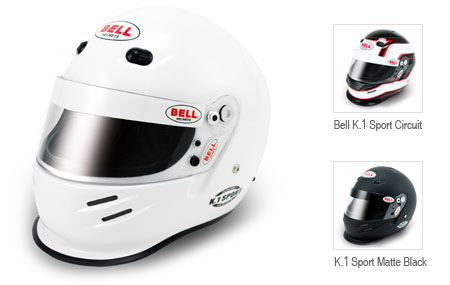 Bell K.1 Sport
The K.1 Sport's aero features enhance the helmet's aerodynamic stability in high-speed racing environments. Also features Bell's redesigned face piece with recessed areas that allow for seamless radio integration and easy installation. FIt can be customized by Bell's Cheek Pad Inserts in 5mm, 10mm, 15mm and 20mm sizes to tighten the fit in the cheek area. The K1 is pre-drilled for use with head and neck restraint devices.
Sizes: 54 - 62
Homologation: Snell SA2010
SOLD OUT

News & Events
CACC #3
June 10th and 11th at Mission Raceway Park
Driver Training 2
June 24th and 25th at Mission Raceway Park
CACC #4
July 15th at Mission Raceway Park
DUE TO EXCHANGE RATE VOLATILITY, THE PREVAILING PRICE IS DETERMINED BY THE USD PRICE MULTIPLIED BY THE CAD EXCHANGE RATE.