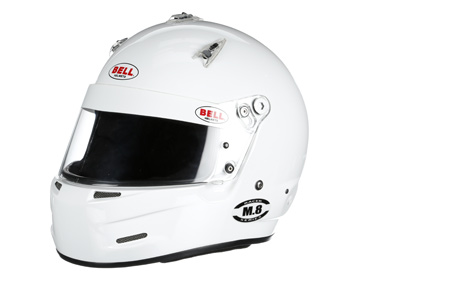 Bell M.8
The M.8 provides outstanding comfort and features including a lightweight composite shell, Comfort-Plus interior, superior ventilation with manual lever air intake vents and a large eye opening. The M.8 is a great choice for racers who want a lightweight, multi-purpose helmet with a wider field of vision (especially for those who wear eye glasses) and updated Bell styling and performance.
Sizes: XXS (54-55) - 4XL (67-68)
Homologation: Snell SA2015
Price: $674.95 CAD

News & Events
British Columbia Historic Motor Races
August 19th and 20th at Mission Raceway Park
ICSCC
September 2nd to 4th at Mission Raceway Park
CACC #6
October 14th and 15th at Mission Raceway Park
DUE TO EXCHANGE RATE VOLATILITY, THE PREVAILING PRICE IS DETERMINED BY THE USD PRICE MULTIPLIED BY THE CAD EXCHANGE RATE.