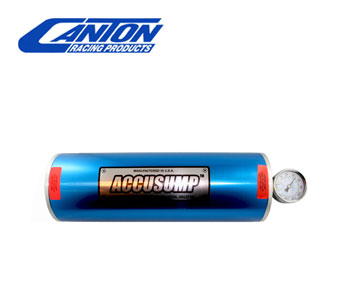 Accusumps are oil reservoirs that connect to the engine's oiling system. They are designed collect pressurized oil from your engine and store it so it may be discharge when oil pressure is low. Accusump Oil Accumulators deliver oil before starting to eliminate dry start scuffing (pre-oiling) and discharge oil during low oil pressure surges to protect against engine damage during demanding racing conditions.
Accusump Turbo-Oilers deliver oil to turbos after shut down to lubricate and cool hot turbo components and prevent coke build up and turbo damage.
Priced from $239.00
Remote oil filter kits are also available for most popular filter applications. Kits contain a billet remote CM oil filter housing, a CM high flow fine filtration filter element, a 90 degree rotating billet aluminum block adapter, 8 feet of stainless steel braided hose and all of the necessary fittings.
Kits are priced from $350.00
News & Special Events
CACC Race #6
October 7 -8
Inventory Closure
October 11-13
Pacific Forest Rally
October 14
important notice: due to exchange rate volatility, prices are subject to change without notice