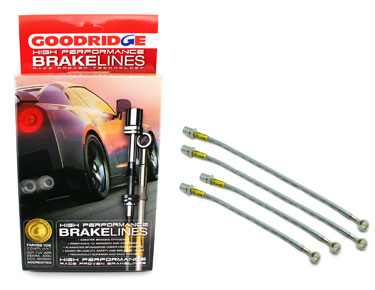 Goodridge G-Stop Brake Line kits are strongly recommended for any track driven car. The high pressures and temperatures are a bit much to ask of the stock rubber lines. However, the benefits of Goodridge G-Stop Brakelines are not only for track cars; they are also an excellent performance enhancement & safety improvement on the "daily driver".
Goodridge G-Stop Brakelines are one of the most cost-effective safety improvements you can make to your vehicle to improve braking and reduce braking distances. Increases braking efficiency and eliminates spongy pedal under heavy braking. Combined with a properly maintained braking system, upgraded brake pads, rotors and brake fluid, braking distances are reduced increasing the margin of safety when you may need it.
Goodridge race-bred brakelines are constructed from the finest quality hose, consisting of a ptfe inner and stainless steel overbraid.
Always use fresh DOT approved brake fluid when replacing brakelines. Click here to view brake fluid options.
Upcoming Events
CACC Race 5
October 10th & 11th at Mission Raceway Park
OWM - OMP Worldwide Meeting
November 4,5,6th in Genoa, Italy
Remembrance Day
We will be closed November 9th, 10th, 11th
DUE TO RECENT EXCHANGE RATE VOLATILITY, UNLESS OTHERWISE INDICATED, ALL PRICES ARE IN USD FOR PRICE COMPARISON PURPOSES.