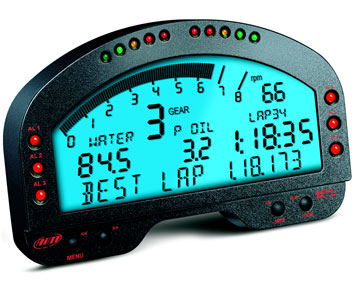 AiM MXL Pista
The MXL Pista is a digital dash, gauge, and race data acquisition system featuring a tachometer, RPM input, 6 configurable alarm LED's, 8 analog inputs, 1 speed input, CAN/serial ECU connector, gear position indicator (sampled or calculated), internal lateral G sensor, and lap timer capability.
The MXL Pista and Pro models are powerful race data acquisition systems used by automotive racers around the world. Powerful enough for world class GT cup cars and LeMans racers, yet easy to own and install. The MXL is the racing data aquisition system of choice for amateur and semi-pro SCCA and NASA club racers.
News & Events
CACC #6
October 14th and 15th at Mission Raceway Park
PACIFIC FOREST RALLY
October 13th and 14th in Merritt BC.
SEAT and BELT SALE
2 days only - October 21st and 28th. In store only.
DUE TO EXCHANGE RATE VOLATILITY, THE PREVAILING PRICE IS DETERMINED BY THE USD PRICE MULTIPLIED BY THE CAD EXCHANGE RATE.