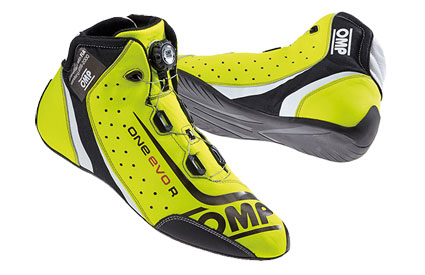 OMP ONE EVO FORMULA R
Ultra lightweight kangaroo leather boot with weight saving fabric inserts. New exclusive micro adjustment 'rotor' lacing that ensures higher comfort. Perforated inserts for enhanced breathabilty. Features a soft knit nomex® interior, ultra-thin hydrocarbon resistant rubber sole with heel bellow. Special order item.
Sizes: 37 to 48
Colours: black/white, fluo yellow, fluo green
Homologation: FIA 8856-2000
Price: $475.00 USD, $679.00 CAD

News & Events
CACC #6
October 14th and 15th at Mission Raceway Park
PACIFIC FOREST RALLY
October 13th and 14th in Merritt BC.
SEAT and BELT SALE
2 days only - October 21st and 28th. In store only.
DUE TO EXCHANGE RATE VOLATILITY, THE PREVAILING PRICE IS DETERMINED BY THE USD PRICE MULTIPLIED BY THE CAD EXCHANGE RATE.