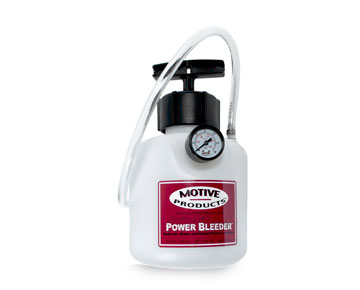 0102 Black Label Classic American & marine trailer kit
The Black Label Power Bleeder kit includes the tank, a billet aluminum reservoir cap with a brass swivel fitting and 6 feet of high grade polyurethane tubing. The custom cap fits most early model American made cars & trucks with internally threaded master cylinder reservoirs from the 1930s through the early 1960s.
The cap on the 0102 also fits many trailers with hydraulic master cylinders.  If the master cylinder has a male threaded cap 1.25" in diameter at the threads and 18 TPI you can use this cap to bleed the brake system on your trailer. 
Price: $98.50 CAD
SAVE $5.00 when purchased with a Motive Products 500ml bleeder bottle (item number 1810)
News & Events
CACC #3
June 10th and 11th at Mission Raceway Park
Driver Training 2
June 24th and 25th at Mission Raceway Park
CACC #4
July 15th at Mission Raceway Park
DUE TO EXCHANGE RATE VOLATILITY, THE PREVAILING PRICE IS DETERMINED BY THE USD PRICE MULTIPLIED BY THE CAD EXCHANGE RATE.