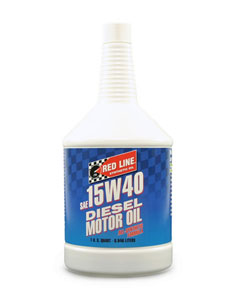 REDLINE 15w40 Diesel Oil, US Quart (946ml)
Fully-synthetic ester formula with excellent wear protection and friction reduction across a wide range of operating conditions. Superior high temperature stability and oxidation resistance increases lubrication of hot metal compared to other synthetics. Lower evaporation than most other synthetics for improved efficiency & piston ring seal.

Popular for Light Duty trucks including Chevrolet Duramax, Dodge Cummins, Ford Power Stroke. Recommended for API CJ-4/CI-4 Plus/CI-4/CF/CH-4/CF-4 applications. Additional applications include: :API SM/SL/SJ/SH/SG/CF and ACEA A3/B3/B4 E7/E9, MB 228.3.
Price: $18.95
News & Special Events
CACC Race #2
May 14-15, Mission Raceway Park
CACC Race #3
June 11-12, Mission Raceway Park
CACC Race #4
July 16-17, Mission Raceway Park
important notice: due to exchange rate volatility, prices are subject to change without notice