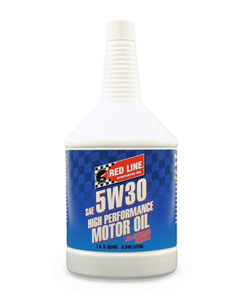 REDLINE 5w30 Synthetic Oil, US Quart (946ml)
Fully-synthetic ester formula with excellent wear protection and friction reduction across a wide range of operating conditions. Superior high temperature stability and oxidation resistance increases lubrication of hot metal compared to other synthetics. Lower evaporation than most other synthetics for improved efficiency & piston ring seal.

As specified for Audi, BMW, General Motors and Nissan applications and where API API SM/SL/SJ/SH/SG/CF and ACEA A3/B3/B4, GM dexos1® (GM-LL-A-025, GM6094M and GM4718M) is recommended. Also suitable forVW/Audi 500.00, 501.01 and 502.00, Ford WSS-M2C946-A.
Price: $11.95 USD, $16.99 Cdn
News & Events
British Columbia Historic Motor Races
August 19th and 20th at Mission Raceway Park
ICSCC
September 2nd to 4th at Mission Raceway Park
CACC #6
October 14th and 15th at Mission Raceway Park
DUE TO EXCHANGE RATE VOLATILITY, THE PREVAILING PRICE IS DETERMINED BY THE USD PRICE MULTIPLIED BY THE CAD EXCHANGE RATE.