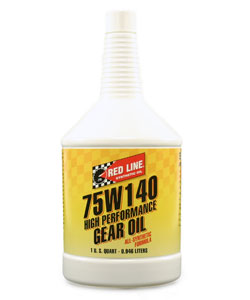 REDLINE 75W140 GL-5 Gear Oil, US Quart (946ml)
Contains additional friction modifiers for suitablity with clutch-type limited slip differentials - for most LSDs, no additional friction modifiers are required. This product is not designed for use in most manual transmissions or tranaxles, since the extreme slipperiness may cause synchronizer mesh issues that lead to shifting problems.

Ester base stocks and friction modifiers provide additional slipperiness to lower operating temperatures by reducing the sliding friction in hypoid gears. Recommended for API GL-5, GL-6, MT-1, MIL-L-2105E, and SAE J2360.
Price: $18.49 USD, $23.25 CAD
News & Events
CACC #3
June 10th and 11th at Mission Raceway Park
Driver Training 2
June 24th and 25th at Mission Raceway Park
CACC #4
July 15th at Mission Raceway Park
DUE TO EXCHANGE RATE VOLATILITY, THE PREVAILING PRICE IS DETERMINED BY THE USD PRICE MULTIPLIED BY THE CAD EXCHANGE RATE.