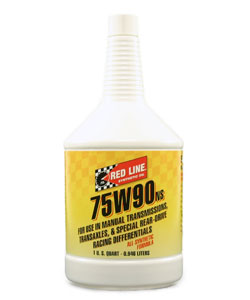 REDLINE 75W90 NS GL-5 Gear Oil, US Quart (946ml)
Designed for transmissions and transaxles - helps to slow synchros for easier shifting across a broad temperature range. Contains extreme pressure additives like our 75W90 GL-5 oil, but lacks friction modifiers to balance slipperiness. Also used with clutch-type LSDs in racing for maximum lock up.

Appropriate coefficient of friction for most manual transmission synchronizers (other's synthetic gear oils are often too slippery for proper synchro engagement). Popular in Ferrari, Porsche and Subaru transaxles. Recommended for API GL-5, GL-6, MT-1, MIL-L-2105E and SAE J2360
Price: $16.49 USD, $20.95 Cdn
News & Events
CACC #6
October 14th and 15th at Mission Raceway Park
PACIFIC FOREST RALLY
October 13th and 14th in Merritt BC.
SEAT and BELT SALE
2 days only - October 21st and 28th. In store only.
DUE TO EXCHANGE RATE VOLATILITY, THE PREVAILING PRICE IS DETERMINED BY THE USD PRICE MULTIPLIED BY THE CAD EXCHANGE RATE.