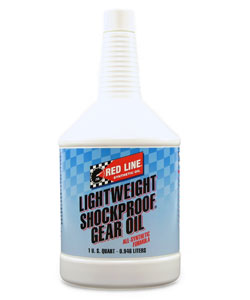 REDLINE Lightweight ShockProof®, US Quart (946ml)
Film thickness greater than an SAE 75W140, yet low fluid friction like 80W gear oil or 30W motor oil offering excellent low-temp flow and improved cold shifting.
Popular in racing transmissions like Hewland and other Road Racing dog-ring boxes, Bert and Brinn for Stock Cars, G-Force, and Liberty clutchless for Drag Racing. Suitable for racing differentials under moderate loads.
Ester base stocks and friction modifiers provide additional slipperiness to lower operating temperatures by reducing the sliding friction in hypoid gears.
Price: $17.95USD, $22.99CAD
News & Events
British Columbia Historic Motor Races
August 19th and 20th at Mission Raceway Park
ICSCC
September 2nd to 4th at Mission Raceway Park
CACC #6
October 14th and 15th at Mission Raceway Park
DUE TO EXCHANGE RATE VOLATILITY, THE PREVAILING PRICE IS DETERMINED BY THE USD PRICE MULTIPLIED BY THE CAD EXCHANGE RATE.