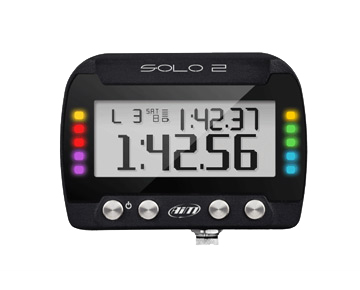 Aim Solo 2 GPS Lap Timer
The most precise and easy way to get lap times The new Solo 2 receives the data from two satellites constellations, GPS and Glonass: this is a huge step forward since it is unbelievably faster and more precise than the previous version and the lap times are calculated within a maximum gap not higher than 2/100 sec.
With a database of more than 2,000 tracks all over the world: as soon as it switches on, Solo 2 identifies its position, recognizes the starting line coordinates of the track and starts sampling lap times.
Please note: This item is currently unavailable
A very useful tool that not only gives you track times, but also data logging for performance analysis of both car and driver. 8mb of internal memory to record data that can be downloaded for post analysis and the ability to overlay data allows comparison of multiple events, cars & events. The Aim Solo 2 is an inexpensive way to make the most of your seat time.
News & Special Events
CACC Race #5
August 27-28, Mission Raceway Park
ICSCC Race
September 17-18, Mission Raceway Park
CACC Race #6
October 8-9, Mission Raceway Park
important notice: due to exchange rate volatility, prices are subject to change without notice